Dental implants are a permanent and appealing solution to replace missing or extracted teeth. They are better than other alternatives like bridges because no additional teeth need to be altered to place the new tooth.
The entire implant process is performed over the course of a few months. The first part of the process is to install the implant itself, where a screw is placed into the jaw bone. An incision is made in the gum so that the implant can be inserted. Multiple implants can be placed at once if necessary.
After the implants are placed the gums are sutured. The implant must be allowed about 3-6 months to heal, and during this time the jaw bone will form around the implant in a process called osseointegration. During this healing time you can have temporary crowns installed so that you can eat and speak normally and maintain a proper aesthetic appearance for your smile.

How Do Dental Implants Work?
Dental implants are designed to serve the same purpose as the root of a tooth. They are small titanium devices that resemble screws that are inserted into the bone tissue below the gumline. When the implant heals into the bone, which may take several months, an abutment and permanent crown are placed on the top. With a porcelain or ceramic crown, the implanted tooth is indistinguishable from your other teeth.



Why Are Dental Implants the Best Solution?

The main reason why dental implants are the ideal solution is that they are permanent. Once they're installed, they're no different than any of your other teeth in terms of function and appearance. They also help keep the bone tissue healthy and strong. When you get dentures or bridges, the bone tissue can degrade over time.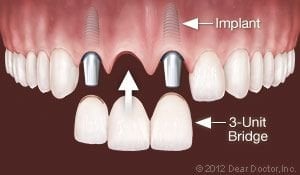 Replace Multiple Teeth — When you have more than one tooth missing, implants provide an ideal replacement mechanism. You don't even need one implant for every missing tooth. Instead, implant teeth can act as supports for fixed bridgework. For example, if you are missing three teeth in a row, we can place two implants, one on either side of the gap, and a crown in between that has no implant underneath. That way, you won't need to use any of your remaining natural teeth as bridge supports, which could weaken them and make them more susceptible to decay.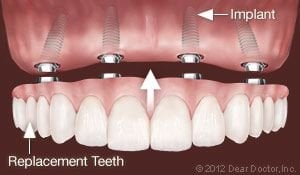 Replace All Teeth Permanently — Implants can support an entire arch of upper or lower replacement teeth that are fixed into the mouth and are never removed. Sometimes the new teeth can be supported by as few as 4 implants. It's comparable to the structure of a table, which only needs 4 legs to hold it up. In cases where jawbone density and volume have deteriorated, 5 or 6 implants might be needed to support a row of 10 to 12 teeth. Dental implant replacement teeth protect your jawbone, won't slip, and should last a lifetime.

Who Can Get Dental Implants?
Only patients who have generally good dental health can get dental implants. Viable bone tissue is needed to ensure that the implants will stay rooted. That's why it's important to see a dentist for a tooth implant as early as possible. In some cases, a bone grafting procedure can help improve a patient's chances of having a dental implant integrate successfully.
How Long Will Dental Implants Last?
For patients of a certain age, a dental implant has a good chance of lasting for a lifetime. The crown part of the implant can last for up to 15 years before it may need to be replaced. Seeing your dentist at least two times every year for professional cleanings and becoming meticulous about at-home dental care will ensure that the implant (and your other teeth) stays strong and healthy.
Do you need Dental Implants or want to learn more?
Then call our Howell, MI office at (517) 546-3180
For more information or to book an appointment!